The Secret, Law of Attraction, TV Shows, books, articles or Motivational Speakers everyone says the same thing – Believe in Yourself !!
Believing in your own self, having a high opinion about yourself and accepting yourself as is all about high Self-Esteem. It is no secret that higher Self-Esteem has a direct affiliation with success, relationships, happiness and our overall well-being.
Self-esteem can oscillate between being high, low or somewhere in-between. It is very normal for everyone to be occasionally overwhelmed with doubts about themselves, however being in that state for longer than desired time leads to low self-esteem and can leave you feeling insecure and demotivated.
It is really imperative for your well-being to have a positive opinion about yourself. If you can identify things that are affecting your opinion of yourself, it is great. If you are unable to put your figure on it, your self-esteem can still be worked on. We can learn to develop a healthier and more accurate view of ourselves by changing the thinking distortions in our mind.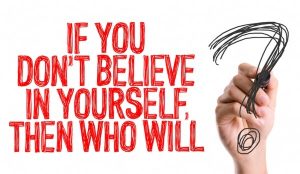 Here are a few tips to raise your Self-Esteem to make you Believe in Yourself-
Confront thinking distortions – Stop comparing yourself to others, as that just does not help
Develop your strengths – Remember how far you have come and focus only on what you can change
Learn to love yourself – Remember you are unique
Learn to laugh & Smile – Celebrate small stuff and do what makes you happy
Accept flaws and imperfections – Nobody is perfect and everyone makes mistakes
Replace criticism with encouragement for your own self
Avoid exaggerations – nip negative thoughts in the bud
Accentuate the positive – choose the brighter side of things
At Tranziam our vision is to ignite the passion, inspire the dream and unleash the potential in every individual so that they can be the very best version of themselves. Whether you are an individual looking to improve yourself, an Educational Institution looking to support your Students and Faculty or an Organisation looking to develop your colleagues on their professional journey, we are here to help you every step of the way.
Click Here to find out more information on how we can help you achieve your goals and aspirations.