We've all witnessed that moment when a leader walks into a room and instantly attracts intense, positive attention. The air shifts. Heads turn. People gravitate toward them in the conversation circle. In short, they have a "wow" factor.
The wow factor is often called "executive presence." Executive presence is a blending of temperament, competencies, and skills that, when combined, send all the right signals.
Leaders know they must embody executive presence to get ahead, influence others, and drive results. Leadership development professionals know they must help their executives develop it. But what exactly is executive presence?  One common response to this question is 'I know it when I see it.'  Some describe it as gravitas or the ability to 'command a room.'
The Three Dimensions of Executive Presence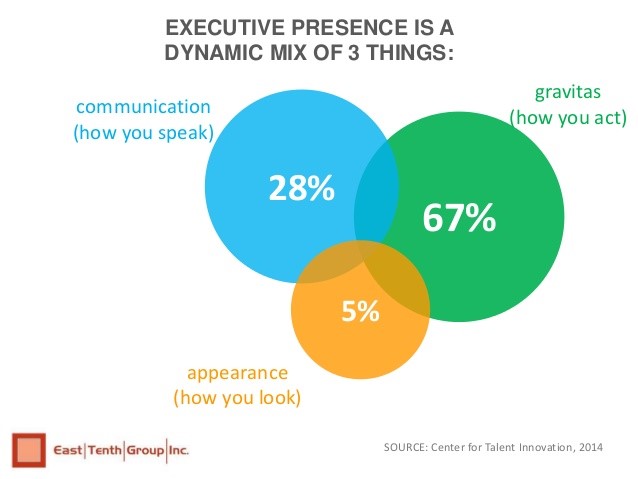 SOURCE: Centre for Talent Innovation
Gravitas (how you act) is an authority and a presence. It is defined as 'Seriousness and importance of manner, causing feelings of respect and trust in others.'  This is made up of 8 key skills which combined together, will give you Gravitas:
Confidence – showing that you believe in and have confidence in yourself so that others will too, particularly when under pressure
Decisiveness – successfully advancing a perspective, recommendation or path of action when consulting with others
Integrity – standing by values, standards and ethical principles, particularly when challenged by superiors, clients, stakeholders and/or established organisational traditions
Emotional Intelligence – demonstrating empathy for others, considering diverse perspectives, being accountable for actions, and their impact, particularly in tough and stressful situations and times of change and transition
Reputation – being considered a positive role model and standard-bearer for your organisation and yourself
Vision – inspiring others with certainty about the future; convincingly interpreting complex data and information, painting a realistic and relevant image of the desired state
Communication (how you speak) is the verbal, non-verbal and virtual ways of conveying explicit and implicit information and signal your capability and Gravitas to others. It consists of:
Commanding Speaking Skills – engaging your audience intellectually and emotionally in content and motivating actions and/or change as a result
Stakeholder/audience focus – collects insights into the background, experiences and perspectives of your audience. The ability to deliver a message that is packaged for the specific audience and having the ability to switch styles to suit your audience
Active Listening – Attentively checking assumptions, probing and feeding back what was heard to the speaker. It is important to confirm understanding and demonstrating comprehension of the whole message, including the implied and understated
Appearance (how you look) us the first impression you make which can either distract from or confirm your capability and gravitas. There are 3 key areas to focus on:
Personal Grooming – caring for your physical appearance to create a professional and polished look
Your Attire – your choice of clothing which supports your substance and 'gravitas' and does not distract from it whilst maintaining your sense of style and identity. Dressing according to your role and goal and what is appropriate for the occasion
Your Mannerisms – ensuring that personal habits (or ticks), both verbal and non-verbal, do not distract, undermine or contradict your substance and gravitas from the audience's perspective
At Tranziam our vision is to ignite the passion, inspire the dream and unleash the potential in every individual so that they can be the very best version of themselves. Whether you are an individual looking to improve yourself, an Educational Institution looking to support your Students and Faculty or an Organisation looking to develop your colleagues on their professional journey, we are here to help you every step of the way.
Click Here to find out more information on how we can help you achieve your goals and aspirations